Tong Wu, CCT 2020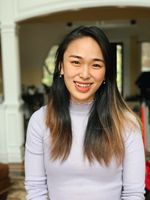 Undergraduate institution and major: Soochow University, China, majoring in Journalism and Communications

Area of focus in CCT: Marketing with an honors certificate in International Business Diplomacy (IBD) in the School of Foreign Service

What did you do before CCT? I was a full-time undergraduate student in China for two years before doing a one-year study abroad program at Binghamton University as a junior. During my senior year, I moved to Shanghai to write my thesis and worked as a freelance journalist reporting on culture and technology in modern China for a western audience.

What activities did you participate in during CCT? During my first year, I worked for the Georgetown University English Language Center as a communications assistant while enrolled in the CCT and IBD programs. During my second year, I worked as a digital communications intern at New America, a think tank in DC, and then as a communications associate at the American Educational Research Association.
Why did you choose CCT? I wanted to see how I could use my communications/journalism background to create a measurable impact on a business's bottom line. CCT was a perfect fit because it offers a lot of flexibility in course selection and enabled me to explore various interests across departments at Georgetown.
What surprised you about CCT? I was surprised by how I could build my own curriculum at CCT and focus on my own path while getting to know others with entirely different backgrounds and career aspirations. I was able to take classes at the McDonough Business School and get very structured training in marketing while enjoying the more creative environment at CCT. The best of the two worlds!
What are you doing now? I'm a paid social manager at dentsu international, a global performance marketing agency, leading paid social efforts on behalf of a client in the financial services industry. I help the client amplify brand content, expand reach, and move their target audience down the marketing funnel to achieve conversions.