Welcome from the Director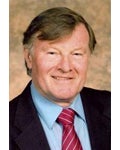 I am delighted to welcome you to the world of Georgetown University's Communication, Culture & Technology (CCT) Master of Arts Program. CCT is a unique and imaginative program and one that speaks especially to people interested in the relationship between new technologies and communication and culture, whether the culture of science, journalism, business, government, or modern life quite generally. One can only approach such relationships by drawing on many disciplines–and the culture of CCT, faculty and students, is deeply interdisciplinary and heterogeneous.
With technologies evolving constantly and cultural identities superseding those of nations in some ways, CCT faculty and students are asking compelling questions. Do traditional news media and the new, emerging media influence the political system, political institutions, and civic orientations in similar ways? How do networks shape social structures? How does the increasing interconnectedness of people, places, and things affect emerging patterns of interdependence as well as dependence? How are new technologies affecting the business landscape? What is the interaction between the process of technological evolution and public policymaking? These are just a few of the questions that have emerged from the interdisciplinary approach of CCT.
Perhaps the main difference between disciplinary and interdisciplinary programs is that pursuing a disciplinary program, say in economics or Spanish literature, is pretty much the same at Georgetown, Heidelberg, the Sorbonne, or in Tokyo; the paths are defined by the discipline. Working in an interdisciplinary program is quite different and requires identifying a problem and seeking to understand it in new ways, finding one's own intellectual path. That is the culture that we nourish in CCT and that yields a congenial and cooperative atmosphere with a lot of talk between students and faculty as we seek to understand the problem solving that we are all involved in. Hopefully this website will convey at least certain aspects of that culture. I draw your attention particularly to the Projects page, which will give you a sense of the wide range of fascinating problems that our students and faculty have addressed within this talented and creative community.
Enjoy!
David W. Lightfoot, PhD
Professor of Linguistics
Director, Communication, Culture & Technology Program
Georgetown University