Yamel Sarquis, CCT Second-Year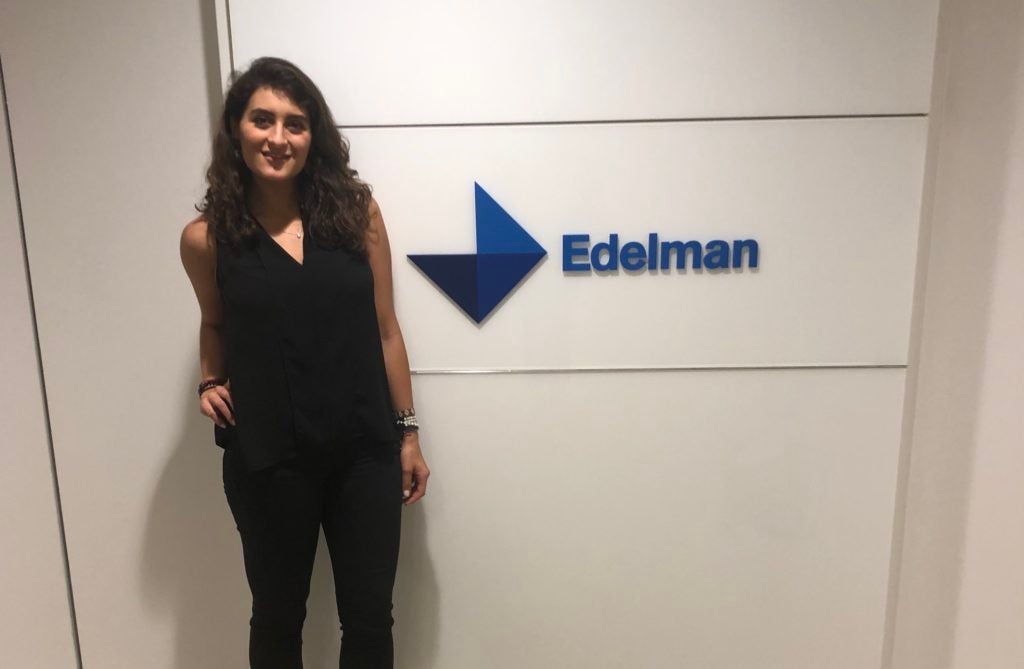 Name of Internship organization: Edelman
Length of internship: 3 months
Briefly describe the mission of the organization and what your role was?
I served as a Public Affairs intern at Edelman, a top global communications firm that partners with businesses and organizations to evolve, promote and protect their brands and reputations. Edelman delivers communications strategies that deal with convoluted situations, positions brands in the digital and media world, and targets strategic stakeholder engagement.
As an intern, I assisted in the digital, financial, and international communications practice, as well as with the issues and campaigns team. My main responsibilities included:
• Understanding and knowing how to apply the principles of communication and political/corporate communication.
• Comprehending the clients' business, motivations, perception, digital presence, and red flags to develop targeted stakeholder engagement tactics.
• Researching and elaborating digital reports on trade & agriculture, the maritime sector, the food and beverage industry, and the Oil & Gas market.
• Media pitching, press kit preparation, issues & scenario mapping, landscape analysis research, and other strategic documents.
• Participating in strategic planning sessions for new business opportunities.
How did your CCT studies inform your experience of this internship?
First of all, I would clarify that the Digital Communications area is a cross-cutting theme in all of Edelman's strategies. To this end, I had a great opportunity to weave in the CCT toolbox into my daily responsibilities by designing and implementing digital communications strategies for the public affairs practice. I could experience how communications, technology, and society help foster a better environment, work towards achieving a company's goal, or help position a contentious issue. Further, I applied CCT learning goals such as Theory to Practice, Technology, and Interdisciplinary Problem Solving. In order to achieve this, I had to perform ongoing multidimensional research to determine our target audiences, listen to social conversations on key topics, determine which channels where the most popular among our stakeholders, and most of all, develop insight and foresight with the assembled information. Further, this work adds to the Media & Politics cluster of the CCT course offering as it relates to the Public Affairs team at Edelman – the one team that works directly with the political scene.
How do you think the internship will inform your CCT student experience?
I got a taste of how to develop digital communications strategies in the real world. By helping the team conduct strategies aimed at engaging with stakeholders, in tandem with promoting & protecting the brand/client (reputational positioning, media relations, digital intelligence and multimedia engagement plans), I could hone my CCT skillset. The internship will also add to my student expertise because it cast some light on how to navigate in a constantly changing digital communications ethos and engage with the social media community in a proactive and positive matter.
How did you find out about this internship?
Before entering the CCT program, I worked for Edelman Mexico for nearly two years. I was interested in understanding the approach Edelman exerted from the DC office, one of the most prominent and strategic locations within the network. To this end, I reached out to the office directly and they referred me to Human Resources where I started my interviews.