Yilin Huang
"CCT is not only a Master's program, for me it is more like a community: every professor, staff member, student, and alum is so warm, friendly and supportive!"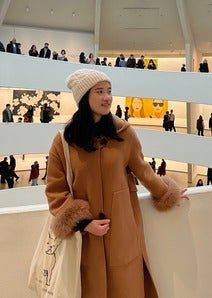 Academic Background: Bachelor of Management
Area of focus in CCT: Business Communication (Digital Marketing, Corporate Social Responsibility), Art (Digital Design & Digital Manufacturing, Game Design)
What did you do before CCT? I graduated with a Bachelor's degree in Management from Shenzhen University in 2021 and took a gap year after graduation. In my gap year, I did three things: the first was joining a communication organization as an event planner and content designer, the second was interning with a music app startup, and the third was volunteering in my local community as a university student representative.
What activities do you participate in at CCT? I served as a volunteer in the Maker Hub, working with students to develop projects utilizing technology like 3D printers, laser cutters and other Maker Hub equipment. I also served as a volunteer in Professor Evan Barba's Iteration Lab.
Why did you choose CCT? My formula for choosing CCT = perfect location + CCT's unique curriculum + Georgetown + a postcard from my friend. My best friend, whose host family was a couple who are Georgetown alumni, sent me a postcard in 2017 when she traveled to DC and told me I should visit DC & Georgetown University someday!
What surprised you about CCT? CCT is not only a Master's program, for me it is more like a community: every professor, staff member, student, and alum is so warm, friendly and supportive!