CCT Highlight: Ken Williams
Posted in Announcements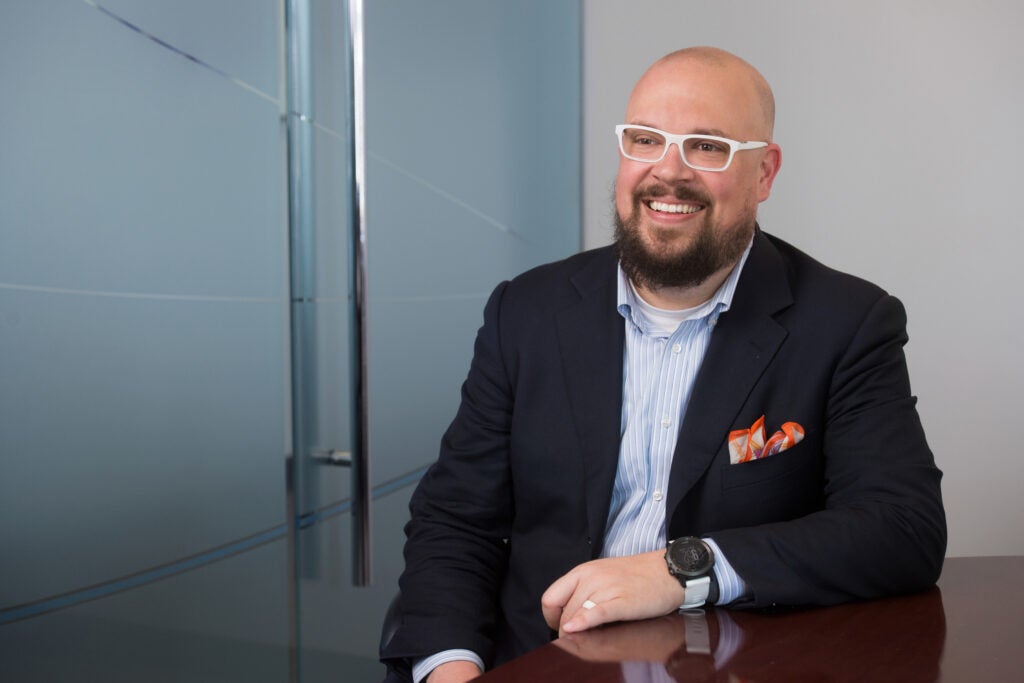 In honor of Entrepreneur's Day today, CCT is excited to feature alum Ken Williams (CCT '16), the new Georgetown University Entrepreneur in Residence, adjunct CCT professor, and Co-Founder & President of Ask Claire, a service to help underserved Medicare beneficiaries navigate plan selection. Ken's areas of expertise include leadership, entrepreneurship and intrapreneurship, coaching and mentorship, DEI&J, market strategy, operations, innovation and design, and much more!
Ken started his own design consultancy when he first went to college at the University of South Florida studying Philosophy, working with students before jumping in to help the school with its recruitment and promotional materials. After graduation, he worked in health policy for a little over a year before coming to Georgetown for the first time, enrolling in the post-baccalaureate, pre-medical program. He and his wife found out they were going to have their first child on the same day he received his acceptance to Georgetown so, after one term, he dropped out to resume his work as a design strategist. This was the start of a highly varied career path that eventually led him back to Georgetown. (Check out his LinkedIn for a more complete picture.)
When Ken first came to the CCT program as a student in 2014, he was an executive at a healthcare consulting firm and wanted to prove that he could start and finish a degree, as he had a pattern of interrupted graduate studies. When researching potential programs, he came across Professor Martin Irvine's work and immediately connected with it, and only applied to CCT. As a student, Ken took every class Irvine taught, and fostered a relationship that has continued as Ken still works with him as a Research Assistant, delving deeply into the history and philosophy of technology and semiotics. Ken feels that the CCT experience is unique in that it empowers students to forge their own academic path, as they put together courses and experiences that align with their own unique goals. For example, in one course on interactive media, he got permission to focus on woodworking rather than electronics for the final project, as he had enough background in programming and circuit design. This has become a life-long passion, as Ken continues to build furniture to this day.Immediately after CCT, Ken left to get his MBA at the University of Oxford, which he feels would not have been possible without first excelling in his studies at Georgetown. With the toolkit that he learned from CCT and Oxford in hand, he and a former colleague/Georgetown alum co-founded a startup, Saeidan, which focused on addressing information asymmetry for underserved populations in Medicare decision-making. Launched right before COVID, Saeidan was accepted into Techstars, one of the world's premier accelerators, before it was acquired in 2022. Entrepreneurship is something Ken has always done and he now mentors for tech startups in multiple sectors across the US. He wanted to give back to Georgetown and reached out to Georgetown Entrepreneurship in the business school, which encourages alumni involvement. Starting as a mentor last year before being selected as an Entrepreneur in Residence, Ken is deeply involved with the Georgetown entrepreneurship ecosystem, spending several hours each week mentoring GU startups and students.
Ken wanted to teach from the moment he read a philosophy book in middle school. As such, Ken is incredibly excited to teach CCTP-5042: Tech Entrepreneurship in the upcoming Spring 2024 semester. He recognized a gap in the CCT curriculum of focusing on applied technology, as many CCT students are interested in business innovation but struggle with taking the tech that is at the core of CCT and making it into a real-world product. His aim with creating this class is to allow CCT students to grow their tech knowledge while building in business fundamentals to ensure they gain a well-rounded approach to tech entrepreneurship
Ken shared a few key things for CCT students starting their entrepreneurship journey:
Your team is important: Make sure to surround yourself with good people. In the context of CCT and Georgetown, you've set yourself up to be surrounded by smart people. Don't do it alone – find individuals passionate about the things you are; the bigger it is, the more important it is to have people around you.
Leverage every opportunity you have to engage with professors and mentors: They are a resource with a narrow window of access while you're a student. Make sure you get their advice and input, as people may have a much harder time making time to connect in the future. While Ken runs multiple companies, he has time carved out weekly to talk with students and startups, so reach out.
Connect with your cohort: His biggest regret at CCT was that he was working so much that he didn't have as much time to connect with his classmates.
Ken stated "What I think is most important about CCT is what you do with it afterwards. It is really unique among grad programs, with a focus on areas of high importance to society at large." He explained that the C, C, and T components are things that businesses won't necessarily think about. CCT is a malleable master's program that allows you to describe and frame it differently in each interview. CCT can open a lot of doors, if you are willing to put in the work.
While Ken still mentors startups, runs his own businesses, and will be teaching at CCT in the spring, he has also been talking to Philosophy Professor Bryce Hubner and CCT faculty about finishing his PhD at Georgetown. Ken firmly believes he is able to have those conversations because of relationships he established while at CCT.
CCT is very proud of all our entrepreneurial alumni who have started their own businesses in the tech sphere. In addition to Ken, we also have Shavini Fernando who developed OxiWear, an ear wearable Oxygen Monitoring device, and Victoria Gomes-Boronat who created LUCIO, a relationship-building, geo-localized mobile metaverse that provides opportunities for safe, healthy, and exciting connections through the use of games and a psychology-informed UI/UX design.