Professor Denise Bedford Nominated to International Association for Knowledge Management
Posted in News | Tagged Denise Bedford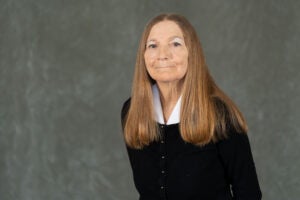 In December 2021, CCT Professor Denise Bedford was nominated to join the International Association for Knowledge Management, an organization that is comprised of a group of knowledge management researchers dedicated to the development of knowledge management as a scientific discipline. Dr. Bedford is currently an Adjunct Professor, Georgetown University's Communication Culture and Technology program, adjunct faculty at the Schulich School of Business, York University, a Visiting Scholar at the University of Coventry, and a Distinguished Practitioner and Virtual Fellow with the U.S. Department of State. At Georgetown University, she teaches a variety of courses dedicated to the understanding of knowledge management, including Cultures of Knowledge Organizations, Knowledge Networks, and Communities of Practice.
When did you first learn about the organization?
I learned about the organization about 20 years ago when I was a Senior Information Officer at the World Bank. As we were building the Bank's "Knowledge Bank" my mentors brought in experts from around the world. I had an opportunity to meet many of them and learn from them. I've kept them in my informal professional network over the years, but now feel like I am a part of their formal network.
Can you talk a little bit more about the nomination process?
You must be nominated for membership by an existing member of the Association. Over the past ten years, as I moved back into academia full time, I built up my research portfolio. To be nominated you must have both a track record of practice and a strong research portfolio. Although I had the practice record, it wasn't until I went back into academia that I could build a sufficient research portfolio. Thank you, Georgetown!
Would you mind discussing who nominated you?
Dr. Alexeis Garcia-Perez, a colleague I first met through a colleague at a KM conference in Lithuania about 10 years ago. Alexeis has been a Visiting Scholar at Georgetown, and we've continued to collaborate on research over the years. He is also the co-editor of our Emerald series – Working Methods in Knowledge Management. We're also collaborating with the current President of IAKM, Dr. Constantin Bratianu, Romania.
What past work have you done that you think inspired this nomination?
The invitation I received referenced a broad body of work, but I believe it was the thirteen books I've had the opportunity to write while at Georgetown in the past few years.
What are you most looking forward to with this position?
Networking opportunities. Europe is where knowledge sciences is growing rapidly – it is where the bulk of research is happening – and where adoption is greatest. Being part of this network now makes all of that knowledge accessible to me.
Is there anything else you would like to share about this organization and/or your upcoming role with them?
I hope that my inclusion in this association will promote research and practice in the U.S. Thank you for helping me to promote the value of this association.