Isaac D. Pacheco (CCT 2011) Takes Visual Media Best Practices Abroad
Posted in News | Tagged Alumni
For the past seven years, Isaac D. Pacheco (CCT 2011) has traveled the world in search of images that explore the unique cultures, breathtaking landscapes and dynamic political climates of the 36 countries he has visited as the editor-in-chief of State Magazine, the U.S. Department of State's flagship digital publication. His quest: to provide a window into the lives of Foreign Service officers and the work they do to advance U.S. foreign policy through diplomacy abroad. Along with his photojournalism assignments, Isaac routinely participates in public diplomacy initiatives, providing lectures and training seminars on visual media and multimedia journalism best practices at universities and professional organizations abroad.
In early June, Isaac participated in a lecture series at the Chisinau School of Advanced Journalism in Moldova's capital city. During the two-day course, he discussed industry trends and the necessity of incorporating multimedia elements into news and feature coverage, especially as audiences continue to shift to mobile platforms for media consumption. Isaac also led the participants (a mix of Moldovan students and working journalists) through a series of practical application exercises with drone cameras, stabilized video rigs, social media video production and RAW photo editing workflow techniques. He also participated in a photo walk with some of the students where he was able to demonstrate multimedia coverage techniques in real time during an unexpected political protest in Chisinau's streets.
Isaac's next assignment will take him to Salalah, Oman, during the Khareef festival, an autumn celebration during which the region's typically arid landscape is covered in verdant foliage as monsoon rains and heavy fog blanket the southern coast. While in Oman, Isaac will also be teaching three visual journalism workshops, including a course in underwater photography in the Strait of Hormuz. Follow Isaac's travels on Instagram @isaacdpacheco, and check out his portfolio at packing-light.com.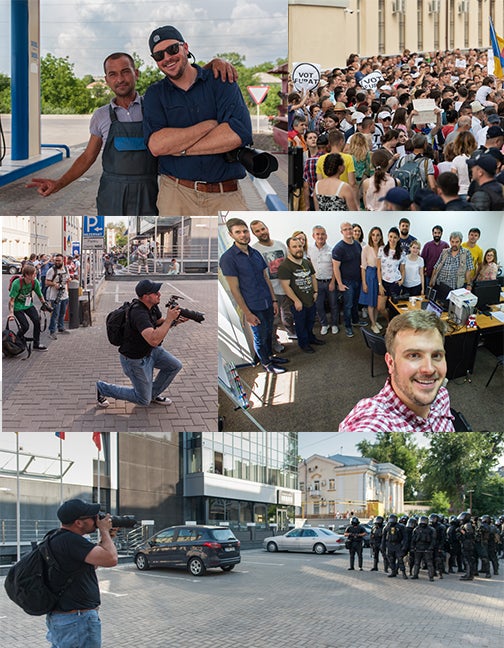 ---
For more, see Alumni Spotlight.