CCT '12 Alumna, Saaret Yoseph, is Washington DC's Filmmaker of the month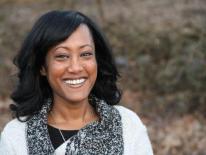 Saaret Yoseph is an inquisitive storyteller with a background in both cultural studies and new media. She is the director and producer of The Red Line D.C. Project (new window), a documentary project about public art, access and gentrification in the capital city that she began in 2010, as her graduate thesis for Georgetown's Communication, Culture & Technology (new window) program.

Last November, Saaret premiered her short film SEE / LINE at the Angelika Pop-Up at Union Market, and earlier this month, her work was highlighted (new window) by the D.C. Office of Film & Television Development, when Saaret was named the January Filmmaker of the Month.
Currently, she works as a media artist for the Smithsonian Anacostia Museum, teaching video storytelling to elementary students. She also serves as a production assistant to Ethiopian filmmaker Haile Gerima.
[]