CCT Alumna Becomes A Fully Accredited White House Correspondent
Posted in News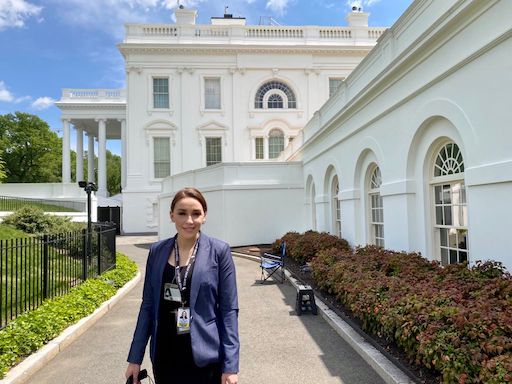 Kristi Pelzel (CCT 2020) adds White House Correspondent to her role at Today News Africa alongside her United Nations and State Department press credentials. She was officially accredited by the White House on May 4th, following the path of other famous Georgetown world-news grads like Yamiche Alcindor, Norah O'Donnell, and Savannah Guthrie.
After graduation and acceptance to the United Nations roster but not immediately receiving a post, Kristi pivoted to international journalism to stay aligned with her career goals. Trips to the United Nations and rotating throughout our nation's most important offices have presented unexpected opportunities, such as future global travel with official US envoys. With her new credentials, Kristi will soon appear in the White House briefing room, and become part of the national dialogue that will impact the rest of the world, especially Africa.
Parallel to these developments, Kristi is also preparing to apply for a US State Department-funded professional-level Fulbright Scholar Project, hoping to teach journalism and launch a storytelling project in Africa during the next Fulbright term, 2023.