CCT Alumna, Sarita Bhatt, Earns Spot on Crain's Top 40 List
Posted in News
CCT alumna Sarita Bhatt (2001) recently earned a spot on Crain's New York Business (new window)' "Top 40 under 40 (new window)" list.
In her first job, as a U.S. government telecom policy specialist, she trotted around the world negotiating international access to the Internet and helping American communications giants enter new markets. Nowadays, she helps global brands such as Hershey's and Unilever craft targeted marketing strategies," Crain's feature article reports.
In congratulating Sarita on this honor, we asked her what influence CCT made in her career.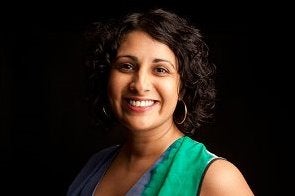 "[At CCT (new window)], I saw (and experienced) the world from a global perspective when it comes to communications, culture and technology, and, as a result, working on a global level has been my focus," she said.
Sarita said her job entails analyzing and defining the intersection of communications, culture and technology for brands/clients every day. 
"While at CCT I took classes about economics, sociology, technology (development), business, entrepreneurship etc. and all of them are relevant to my work today. Perhaps what sticks most is the skill of writing, story telling and topic sentences," Sarita said, adding that CCT's Dr. Linda Garcia (new window) helped drill topic sentences into her writing.
Sarita's favorite business campaigns?
Sarita said it may be surprising, but some of the healthcare campaigns she's worked on have been her favorites. 
"You get to take dense information and translate it into palpable content that can inform people of ailments and health issues. So it's entertainment + education (In a way) and that's cool, especially the small changes campaign I did for GE."
On the flipside, Sarita said she always enjoys working on Herseys campaigns because they're fun and because, "Who doesn't love chocolate?" She makes a good point.

Read more about Sarita in her "Top 40 Under 40" Crain's New York Business spotlight article (new window) and follow her on Twitter (@saritabhatt (new window)) or LinkedIn (new window).