Student Profiles
Liz Sabatiuk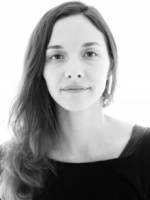 Be it through digital media, Argentine tango, or interdisciplinary studies, I seek connections. Discovering unexpected connections is crucial to solving the complex problems of today's world. And the feeling of connection – to self, community, and the planet – can drive us to make changes large and small in our lives and the lives of others. I'm pursuing an M.A. through Georgetown University's Communication, Culture & Technology (new window) program to learn to better identify, explore, and facilitate these connections. When not studying at Georgetown, I create and edit content for Bedsider.org (new window), a birth control support network that makes birth control easy. Read more here (new window).
*photo by Jaime Montemayor
Areej Mehdi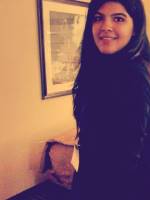 I am a visiting Fulbright scholar from Pakistan enrolled in the Communication, Culture and Technology program at Georgetown. I come from a Literature background: my first day in CCT (and almost all subsequent 505 classes) I kept wondering, WHAT AM I DOING HERE? While this haze of uncertainty has not yet completely dissipated, I believe my time in CCT so far has better equipped me to answer this question. Quality education and literacy have always been causes close to my heart. In the past several years I have struggled with the idea of technology in classrooms and more importantly, low cost quality education. While working with various non-profits back home I realized this issue is more complex than it appears and requires a partnership between the public and private sector for it to be a success. As a CCT student one of my goals is to learn from the diversity of what this program has to offer and to apply that knowledge when working out a symbiosis between these two entities in Pakistan.
I am also a senior TEDx Ambassador, which is a fancy way of saying I curate ideas and like connecting with people who dream big and aren't afraid to fail. My association with the TEDx program has allowed me to see the world from a 360 degree lens and I have a feeling my time at Georgetown will only further enhance this rather spectacular view.
J Stephanie Rose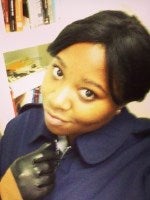 I am first year CCT student interested in the expansion of wireless broadband services and the  utilization of spectrum allocation. During this semester, I have been working with the Graduate Student Organization to provide volunteer outreach opportunities for all Georgetown Graduates. Being a CCT student has definitely opened up my aperture in regards to what it means to be a part of an academic community. Our program has a wide variety of personalities that promotes an interdisciplinary learning environment. My most exhilarating moment this semester has been playing on our co-ed flag football team The Digerati. Digerati is synonymous with Hoya Saxa!
I have some a long way from being the  17 year old that enlisted in the United States Air National Guard. I obtained my  B.A. from Marymount Manhattan College in 2010 and deployed twice to support Operation Enduring Freedom. I now work at the Pentagon for the Deputy Assistant Secretary of Defense for Developmental Test and Evaluation . During my Master's candidacy I would like to remain involved with the Graduate Student Organization and continue to build on my professional career to aid in finding solutions for the over allocation of spectrum.
Chelsea Burwell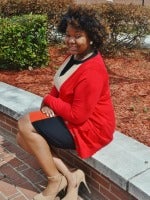 Discovering one's purpose and calling doesn't always come in the most conventional circumstances. At least not for me, seeing as how my purpose manifested itself by way of a yearbook message from my high school African-American literature teacher. "Like the trees, moon and stars– which add their own to this universe – know that you have a place in this world." That message, along with adolescent exposure to magazine journalism and a growing interest for writing, race relations and gender politics all shaped who I am and for what I stand. My ultimate career goal is to launch a magazine devoted to indie culture, specifically happenings with independent art forms like fashion, music and film. I believe in equity and the importance of amplifying narratives across all sectors of society – no matter race, gender, sexuality, religious background or socioeconomic status. It is my desire to use my gift of "reaching others" to establish a common ground for all people – even if for just a few moments – as they thumb through the pages of my magazine. Whether my readers are bankers on Wall Street or starving artists in DC, I want these stores to be accessible and draw connections; similar to the connections I hope to gain here at CCT. This program opens doors for innovation, discourse and community intellectual development. It is a safe haven for change and growth. Just eight years ago, I didn't know my purpose in life or if I even wanted to discover my calling, but now I see that CCT is helping me discover where my place in the world is.
Sam Redd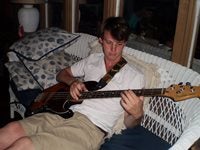 The music industry is saturated. I played in bands for years, participated in different genres, and traveled from my home in Virginia to NYC, to the Midwest, and even to Europe searching for the best way to get my work out there. As with other forms of art, the people who make music always do it initially because they love it. For someone who wants to make that their means of living, though, the industry and sheer volume of competition can be intimidating. So I decided I would try to find another way into the business; the angle didn't matter so much, I just wanted to get involved in the industry. That is what brought me to CCT. One thing I had realized was that the internet as a promotional tool was much more powerful and could reach so many more listeners than any previous method, and I came into the program with this mindset. I would learn how to promote myself online in a way that would cut through the heavy traffic of content on the internet.
Within the first week, no, the first day of classes, my way of thinking about this evolved. I knew that by studying in this program I would be able to understand the industry in addition to being able to participate in it. Furthermore, I could look at the relationship between creative work and the cultures that produce and consume it, and that kind of sociological approach would be relevant to any form of communication. Months later, and as my first semester draws to a close, I have learned to examine the issues that concern artists in a multitude of ways. Why is it so difficult to make a career as artist? What innovative ways could someone promote their work that no one has thought of? What are the consequences for a culture whose art is being homogenized (i.e. last week's #1 song on the radio sounds similar in many ways to this week's)? What kind of policies need to be updated to apply to art and music on the internet? These questions have become much more significant to me than my initial goal of learning promotional skills. In addition to studying, I work at a nonprofit that advocates for for artists' rights and is active in the political discussion of how to treat music now that the internet has changed everything. I wanted to be involved with music; now I am studying how to understand its perpetual cultural significance and how we can optimize its future.
Justin Kollinger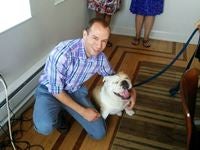 Justin Kollinger is a part-time CCT student who is focusing on knowledge management, idea flow, organizational communication, leadership, and organizational culture. "Part-time" is only a label; he is taking two classes each semester, helping Dr. Bedford (new window) and Professor Fernandez (new window) with different research projects, studying abroad in Geneva (new window), guiding new CCT students as a TA for the intro course (new window), and sharing tea or dinner with his classmates while working full-time at the University. He thinks his greatest CCT accomplishment so far is his presentation of Dr. Bedford's research at the KM World Conference in November 2014. His classmates think it was his goaltending in CCT's upset intramural soccer win over MSFS.
Justin hails from Pittsburgh, Pennsylvania and graduated with his BA in Political Science and International Affairs from Gettysburg College. He will gladly talk anything Pennsylvania, from Erie to East Stroudsburg. (However, like a good Pittsburgher, he dislikes everything about Philadelphia, even while he is enjoying his visits there.) You can find him at the Lincoln Memorial beach volleyball courts, on the Ultimate field, or sitting around a board game. When there is any time left in the day, he cheers for the Pittsburgh Penguins, DC United, and underdogs everywhere (unless the underdogs are the Philadelphia Flyers).